The Need for Linguistically-Appropriate Services
On April 20, 2022, CMS released an action plan that establishes health equity as a 'first pillar' of its strategic vision under the Biden-Harris Administration. Included in its priorities are two actions that consider languages spoken:
Promote culturally and linguistically appropriate services to ensure understandable and respectful care and services that are responsive to preferred languages, health literacy, and other diverse communication needs.
Expand and standardize the collection and use of data, including on race, ethnicity, preferred language, sexual orientation, gender identity, disability, income, geography, and other factors across CMS programs
According to the U.S. Census Bureau's American Community Survey, over 25 million people in the US have limited proficiency in the English language. Many studies show that language-concordant care (i.e., providing care in the same language as the patient prefers) can improve healthcare outcomes and satisfaction.
Provider Directories and Languages Spoken
Given the need for care in non-English languages, how easy is it for patients to find that care? Most of the top doctor search engines include language filters as a feature. Government regulations also require payers to include languages spoken in their online provider directories and most of the top health plans are complying. Even Google now supports searching for healthcare providers by languages spoken, as you can see below: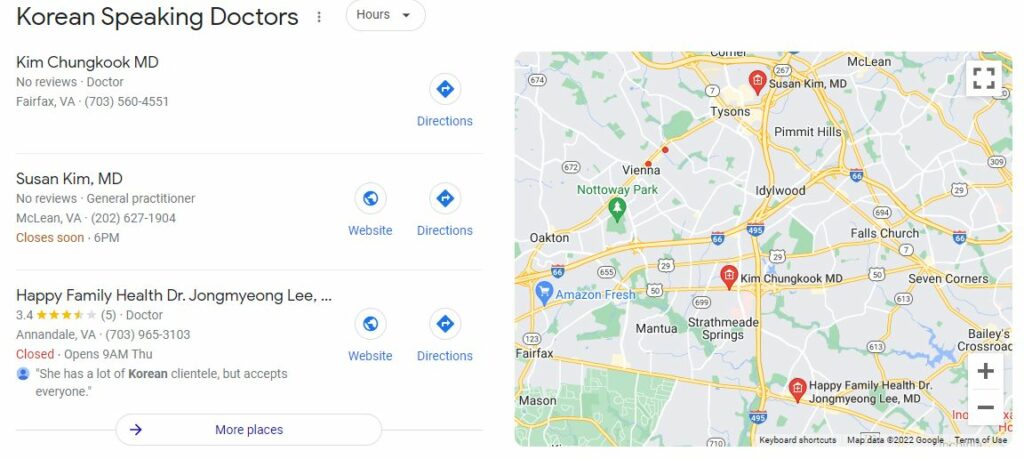 However, simply having good language filters on healthcare digital front doors has not been enough to address language barriers. A 2018 study of 120,000 adults showed that patients primarily speaking Spanish had total health care spend that was 35% lower than those who were English proficient. Spanish-speaking patients also received fewer medications and made fewer inpatient and outpatient healthcare visits than their English-speaking counterparts. Language barriers may be obstructing access to care for patients with limited English proficiency.
Analyzing Prevalence of Languages Spoken using Payer Provider Directory API Data
With the recently enforced CMS Final Rule on Patient Access and Interoperability, payers are publishing their provider network data via APIs. Many are also including information on languages spoken by providers. Defacto Health has analyzed language data across leading health insurers, and has been able to identify non-English languages spoken either by the practitioner or their staff for approximately 63% of providers.
Defacto also ranked the languages by total providers speaking, and was able to come up with a top 10 list:
Spanish 20.73%
Hindi 3.33%
French 2.95%
Arabic 2.25%
Russian 2.17%
Chinese 2.17%
Korean 1.70%
Vietnamese 1.62%
Farsi 1.34%
German 1.34%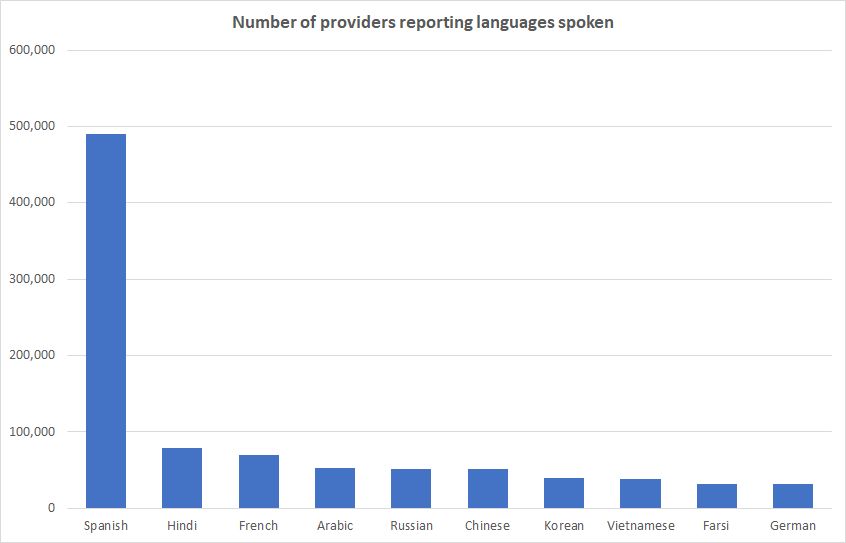 These data match fairly close to previous analysis performed by Doximity (focused on physicians only) and AMN Healthcare (physicians and other medical staff and looked at actual interpretation services provided).
How do the top 10 list of provider spoken languages compare with languages spoken by the general population? Provider and patient populations share these top languages: Spanish, French, Arabic, Russian, Chinese, Korean, Vietnamese, and German. Tagalog and Haitian Creole are top languages among patients that are not among the top 10 for providers. While providers who speak the top languages are available, even Spanish speakers experience language-related barriers to care, and other patient populations experience these barriers more acutely.
A Language-Aware Healthcare Ecosystem
The availability of data on languages spoken by healthcare providers can help health plans, healthcare providers, and digital health companies provide and refer language-concordant services to patients with limited English proficiency. The increasing availability of this structured data in the public domain enables those involved in healthcare delivery to understand how well their provider networks can support the language needs of their patient populations.